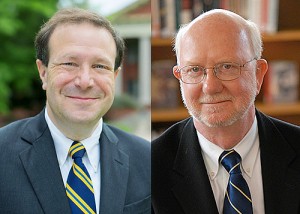 On March 8, Carleton President Steven Poskanzer and St. Olaf President David Anderson talked about the "Broadening the Bridge" project in "Carleton Connects," a monthly series of online presentations by Carleton faculty, staff, and, and other special guests.
Moderated by Christopher Tassava, Associate Director of Corporate & Foundation Relations at Carleton, the program included brief introductory remarks by the presidents and a a question-and-answer period in which the presidents responded to inquiries submitted by Carleton and St. Olaf alumni.
The program was webcast live and archived on the the Carleton Connects website: Presidents Steven Poskanzer & David Anderson.